Clenapure Lavender Sulfate Free Body Wash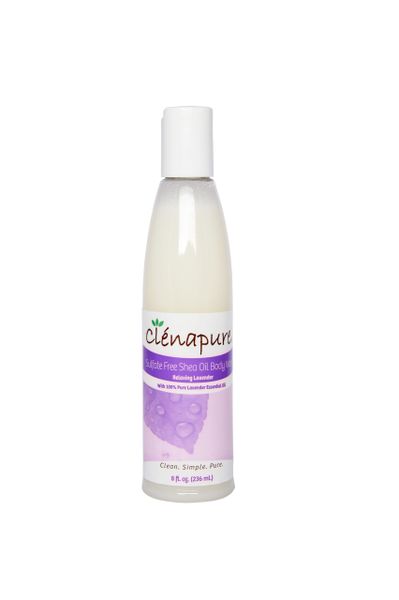 Clenapure Lavender Sulfate Free Body Wash
8 oz.
Ease into the end of a busy, hectic day with our relaxing Lavender Sulfate-Free body wash with shea oil. The tranquil scent of pure lavender essential oil will help you unwind and relieve tension. 
To use:  In bath or shower, squeeze a small amount onto bath puff and massage over moist skin.  Rinse clean and follow up with Clenapure Nutrient Rich Body Oil or Clenapure Fluide Body Moisturizer.  The natural shea oil content tends to settle at bottom without daily use of this product.  This does not affect the product's quailty.  If settling occurs, simply shake bottle to blend all ingredients prior to use.
Ingredients:  Organic Aloe Juice, Organic Lavender Water, Roman Chamomile Water, Sodium Lauryl Sulfoacetate, Cocomidopropyl Betaine, Disodium Laureth Sulfosuccinate, Kosher Vegetable Glycerine, Phenoxyethanol, Calcium d-Pantothenate (Pro-Vitamin B5), Hydrolized Wheat Protein, Jojoba Oil, Rosehip Seed Oil, Vitamin E, Tetrasodium EDTA, Citric Acid, Lavender Essential Oil, Shea Oil, Aqua, Organic Alcohol, and Organic Extracts of Green Tea, Blue Green Algae, Nettles, Chickweed, Slippery Elm, Milk Thistle, Marshmallow Root and Oatstraw.
WHY CHOOSE CLENAPURE PLANT BASED SKINCARE PRODUCTS?  Your skin quickly absorbs whatever you apply to it…directly into your bloodstream!  Please be cognizant and read the list of ingredients that comprise your skincare products.  Clenapure products are eco friendly and non toxic because they are made with plant based ingredients.  This  means that using Clenapure Plant Based Skincare Products is safe for you and the environment because you are not absorbing harmful chemicals into your skin, nor washing toxins into our waterways.  All to give you Clean Skin…From the Outside In.

Reviews
Featured Products