Clenapure Organic Multi-Herb Bath Tea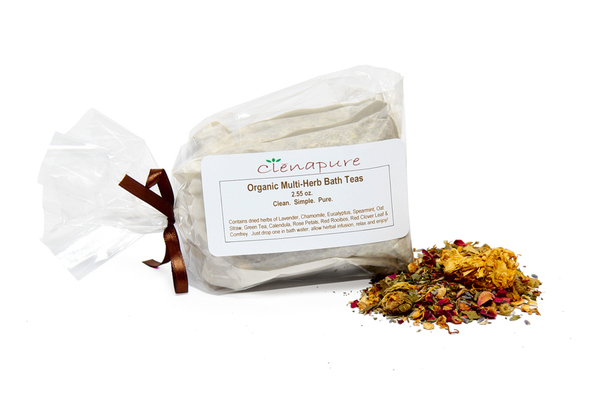 Clenapure Organic Multi-Herb Bath Tea
3 oz.
Unwind at the end of a hectic day by relaxing in a warm bath infused with Clenapure's Bath Tea with a treasure trove of whole, organic herbs. Say, spaaahhh!
To use: Fill the sachet with 3-4 tablespoons of Clenapure Organic Multi-Herb Bath Tea and drop into your bath water. Allow the herbal infusion, then relax in water and absorb the nutrients into your skin. Follow bath with Clenapure Fluide Body Moisturizer or Clenapure Nutrient Rich Body Oil.
Ingredients: Organic Herbs of Lavender (calming & healing), Oat Straw (soothes dry irritated skin), Whole Calendula Flowers (known for its antispasmodic and astringent properties), and Whole Red Clover Flowers (touted to provide menopause relief)
WHY CHOOSE CLENAPURE PLANT BASED SKINCARE PRODUCTS? Your skin quickly absorbs whatever you apply to it…directly into your bloodstream! Please be cognizant and read the list of ingredients that comprise your skincare products. Clenapure products are eco friendly and non toxic because they are made with plant based ingredients. This means that using Clenapure Plant Based Skincare Products is safe for you and the environment because you are not absorbing harmful chemicals into your skin, nor washing toxins into our waterways. All to give you Clean Skin…From the Outside In.

Reviews
Featured Products